I spent a couple of weeks on the South Island in New Zealand around Christmas. While this was officially a family vacation, I managed not to close my eyes when some of the awesome birdlife passed by. The number of species (and number of pages in the field guides) in New Zealand pales in comparison to the ABA area, but being an isolated island it is perfectly situated for a number of very unique endemic species. Like in most other places, human activity has led to steep declines in the populations and even extinction of many of these species – by some accounts up to 40%. With no or few natural mammalian predators, introduced species have been a primary reason for this situation.
While my entire trip was on the South Island, that didn't stop me from knocking off a few birds during my transit at Auckland Airport on the North Island – particularly Common Chaffinch and Common Myna. My first couple of days were spent in the Christchurch region. The semi-urban area has some wonderful spots for shorebirding and I spent some time in the Avon-Heathcote Estuary. The highlight of the place is the over 1000 wintering (summering?) Bar-tailed Godwit which breed in places including Alaska and at 7000+ miles undertake one of the longest non-stop flights during migration of any bird species. Other species I picked up here include Pied Cormorant, Australasian Bittern, White-faced Heron, Swamp Harrier, Pied Stilt, South Island Oystercatcher, Variable Oystercatcher, Masked Lapwing, Red-billed Gull, Kelp Gull, Australasian Magpie, Welcome Swallow, European Goldfinch and House Sparrow.
Another area I tried near Christchurch was the Ashley River Estuary which was a bit to the north. I was attempting to find Wrybill and with some luck – Black Stilt, but unfortunately dipped on both species. I suppose I will have to make another trip! Birds of note here were Double-banded Plover and Sacred Kingfisher.
From this point I headed north to Kaikoura – which has a reputation for pelagic birding. When I got there, I was informed that the pelagic I had booked had failed to meet minimum numbers and would be cancelled. After consulting with some friends, I decided to pony up the NZD 250 for a solo trip – and it was worth every penny. The trip is short by most standards at 2-3 hrs but as soon as we left land behind and my guide/captain pointed out the first albatross I had ever seen, I knew it was going to be special. The first albatross was a Wandering Albatross and it had a wing span almost as wide as our boat! The boat went out to the continental shelf and as soon as we put out the chum, the birds came – Wandering Albatross, White-capped Albatross, Salvin's Albatross, Southern and Northern Royal Albatross, Northern Giant Petrel, Cape Petrel, White-chinned Petrel, Westland Petrel, Flesh-footed Shearwater, Sooty Shearwater, Short-tailed Shearwater, Hutton's Shearwater, and more. The birds were close enough for wide-angle lenses and I was actually clipped by a Giant Petrel. I was a little seasick by the end, but so totally worth it.
From Kaikoura we drove back south to Moeraki (no new birds, just some rocks in the water), stopping on the way in the small town of Cheviot. In a lagoon there I found Black Swan, Pacific Black Duck, Australian Shoveler, Grey Teal, New Zealand Scaup, Purple Swamphen and Eurasian Coot. No bird photos, but here are the Moeraki Boulders.
This was followed by a long drive to Dunedin on the Otago Peninsula. Another birding hotspot – I swear it was just a coincidence. On the peninsula, we spent a few days including a couple of solo trips to see penguins. The first night there included a drive to the Royal Albatross Center – strangely enough, not to see Albatross, but Little Penguin. My species list from a few other outings included Little Owl, Yellow-eyed Penguin, Bronze Shag, Royal Spoonbill, Yellowhammer and Spotted Shag.
The subsequent few days were spent in the Catlins chasing down some forest birds. The crown jewel of sites for forest birds however was off the south end of the South Island on the third island in New Zealand – Stewart Island. This included two trips to Ulva island which is a predator free island accessible by water taxi from Stewart Island. These trips included gems like Morepork, Yellowhead, Saddleback, Stewart Island Robin, Tomtit, Silvereye and Red/Yellow-fronted Parakeet.
I would be remiss if I didn't mention that one of my most coveted birds was the South Island Brown Kiwi which I found on a midnight trip off Stewart Island. The photograph is horrible, taken at ISO-124000 and lit by flashlight, but deserves special treatment.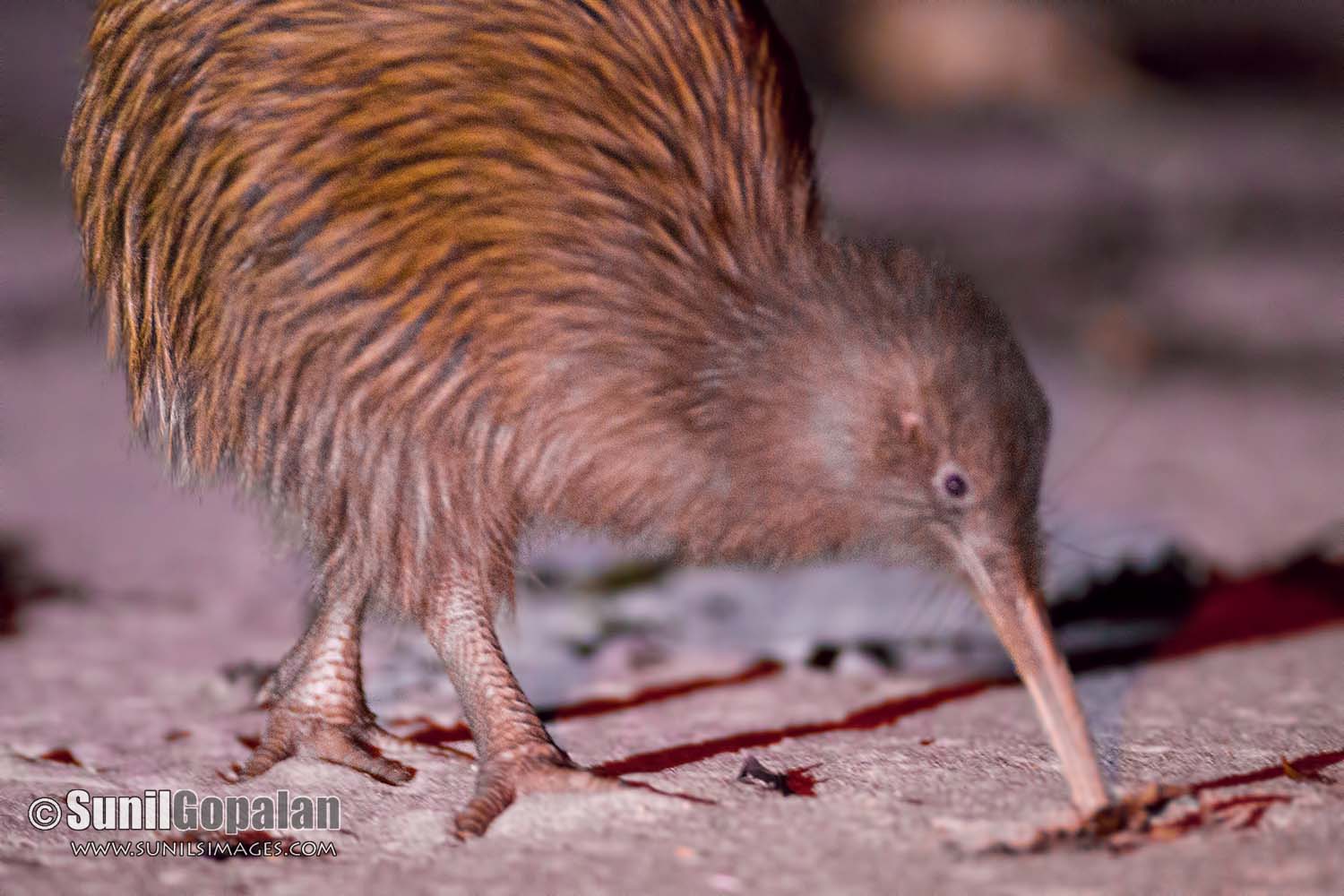 We wound up the trip with a few days in Fiordland – where I added the Fiordland Crested Penguin on a cruise to Doubtful Sound.